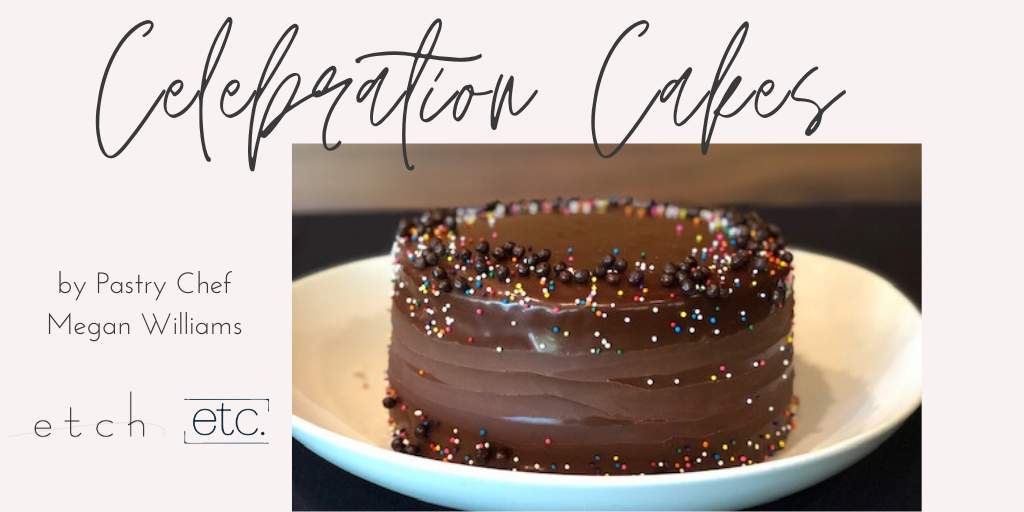 Make your celebrations a little sweeter with a custom cake by Pastry Chef Megan Williams! Whether it's a birthday party, anniversary, or just an ordinary Tuesday night, there's always justification for a homemade cake. So Megan and her pastry team are offering a selection of decadent cakes to sweeten the occasion!
Choose from a variety of flavors in a 6″ or 9″ size; special requests and custom inscriptions are also available. Cakes can be picked up from Etch or etc. in Green Hills during our normal business hours. If you prefer to have it delivered, just let us know in your order form and we'll follow up with availability! (Additional delivery fees apply)
---
CAKE FLAVORS:
Chocolate cake with chocolate frosting
Chocolate cake with vanilla frosting
Vanilla cake with chocolate frosting
Vanilla cake with vanilla frosting
Carrot cake with cream cheese frosting
Funfetti cake with funfetti frosting
Red Velvet cake with cream cheese frosting

CAKE SIZES:
6″ cake: $40 + tax
9″ cake: $60 + tax
ORDERING DETAILS:
Advance notice of seven days is required for all cake orders. We will be in touch within one business day to confirm your order and obtain payment information. Use the form below to submit your order. Thank you!