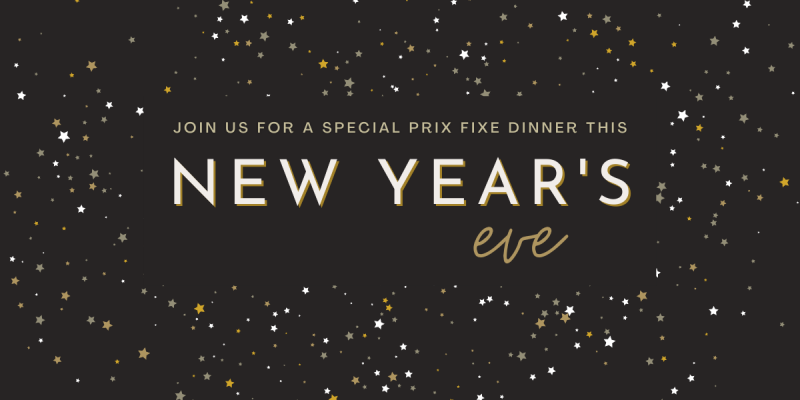 Ring in the new year at Etch! Our culinary team has created a unique four-course prix fixe menu for the evening, complete with optional wine pairings presented by Sommelier/Beverage Manager Rob Guimaraes. There will be plenty of bubbly options to commemorate the occasion as well.
The prix fixe dinner is $110++ per person and will take the place of our regular menu that evening. Wine pairings are an additional $45 per person. Reservations require a credit card to hold; a cancellation fee of $50 per person will be applied in the event of a cancellation within 48 hours of the reservation.
Make your reservation here.
---

STARTERS
choice of one:
GRILLED HALLOUMI TARTINI nigella seed / chickory / mint / fermented honey / fig chutney / pomegranate seed
SMOKED TROUT MINI LASAGNA herbed butter sauce / trout caviar / golden beet / fine herbs
VENISON & LEMONGRASS SAUSAGE  ginger chili broth / mung bean sprout / glass noodle / thai  basil / lime
RED WINE PORCINI BISQUE crispy shallot / caramelized onion / herb crema
SALAD
choice of one:
CITRUS GREEN BEAN miso yuzu vinaigrette / spinach / radish / sesame seed / pickled tofu / chili crunch
CHARRED BABY CORN & ENDIVE raisin mustard vinaigrette / caper berries / gem lettuce / zucchini ribbons / candied pepitas
ENTRÉE
choice of one:
PORK CHOP kimchi purple potato hash / sweet corn aioli / shaved brussels /scallion / sunflower sprouts /espresso dijon vinaigrette / xo caramel drizzle
ELK CHOPS smoked potato purée / cabernet blackberry reduction / roasted winter squash / pistachio dukkah / parsley / arugula / pea shoots
PAN SEARED HALIBUT  shrimp & chorizo pierogi / guajillo cider broth / pepita crumble / herb + caper crème / okra
FILET  lobster saffron arancini / butternut masala / kachumber relish / cilantro chutney / marinated eggplant
FRENCH ONION GALETTE caramelized onion / wild mushrooms / gruyère / thyme / horseradish crema / blistered tomatoes / arugula / balsamic drizzle
DESSERT
choice of one:
BURNT HONEY MOUSSE pomegranate gelée / ruby chocolate glaze / pistachio cake / crème fraîche whip / toasted pistachios
BLACK FORREST CREAM PUFF chocolate choux pastry / dark chocolate whip / cherry compote / morello cherry purée / chocolate shavings