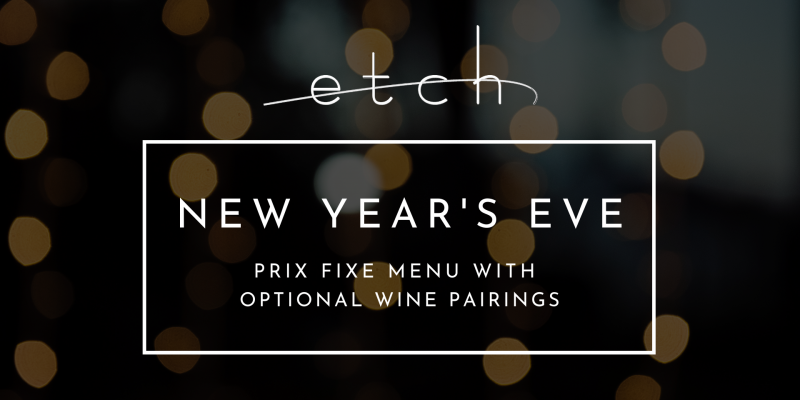 Celebrate the new year (and the end of 2020) at etch! We're hosting a socially distanced NYE celebration, complete with a special four-course prix fixe menu presented by our culinary team. Optional wine pairings created by Sommelier/Beverage Manager Rob Guimaraes are available to add to the special dinner, and there will be plenty of bubbly options to commemorate the occasion.
We are following all social distancing guidelines to serve you safely. We do ask that you refrain from celebrating in person if you are experiencing any symptoms or have been exposed to Covid-19. Read about all of our safety and cleaning protocols we're following here.
The prix fixe dinner is $95++ per person and will take the place of our regular menu that evening. Wine pairings are an additional $45 per person. Reservations require a credit card to hold; a cancellation fee of $50 per person will be applied in the event of a cancellation within 48 hours of the reservation.
Make your reservation here.
---

STARTERS
choice of one:
PARSNIP VELOUTE root vegetable crisps, smoked trout caviar, herb crème fraîche
HOUSE-MADE BURRATA mole gastrique, mexican candied pumpkin, pepita cracker, epazote
VENISON CRÉPINETTE kefta spice, apricot feta filo, pomegranate walnut sauce, micro mint
SHRIMP & GRITS golden spiced rock shrimp, ginger grits, charred eggplant purée, ancho cherry chutney
SALAD
choice of one:
PERSIMMON & BEET chicory, watercress, endive, citrus segments, blood orange vinaigrette, caramelized yogurt, smoked pistachios
WARM LEEK potato, bacon vinaigrette, cured egg yolk, arugula, tarragon, leek ash, puffed farro
ENTRÉE
choice of one:
FILET MIGNON caramelized leek and potato samosa, masala creamed spinach, korma sauce, crispy shallots, lobster butter
GROUPER celery root mash, glazed mushrooms, charred radicchio, pickled beets, dill yogurt, birch hollandaise sauce, toasted hazelnuts
SCALLOPS  fennel purée, fingerling sweet potatoes, saffron orange sauce, citrus segments, frisée, feta, puffed quinoa, capers, golden raisins, cured olives
DUCK tea brined quail egg, spicy lotus root, bamboo rice cake, sweet chili bok choy, schezuan red bell sauce, hoisin
MUSHROOM & CHESNUTS EN CROUTE leeks, confit garlic, brie, gruyére, fine herbs, oat dijon béchamel
DESSERT
choice of one:
CARROT CAKE PETIT GATEAU carrot crémeux, pecan shortbread, candied pecans, tangerine sauce
CHOCOLATE PEPPERMINT SLICE flourless chocolate cake, dark chocolate mousse, white chocolate whip, peppermint meringue